That Day We Jammed Across the Net |那一天系列
2022-07-08
‍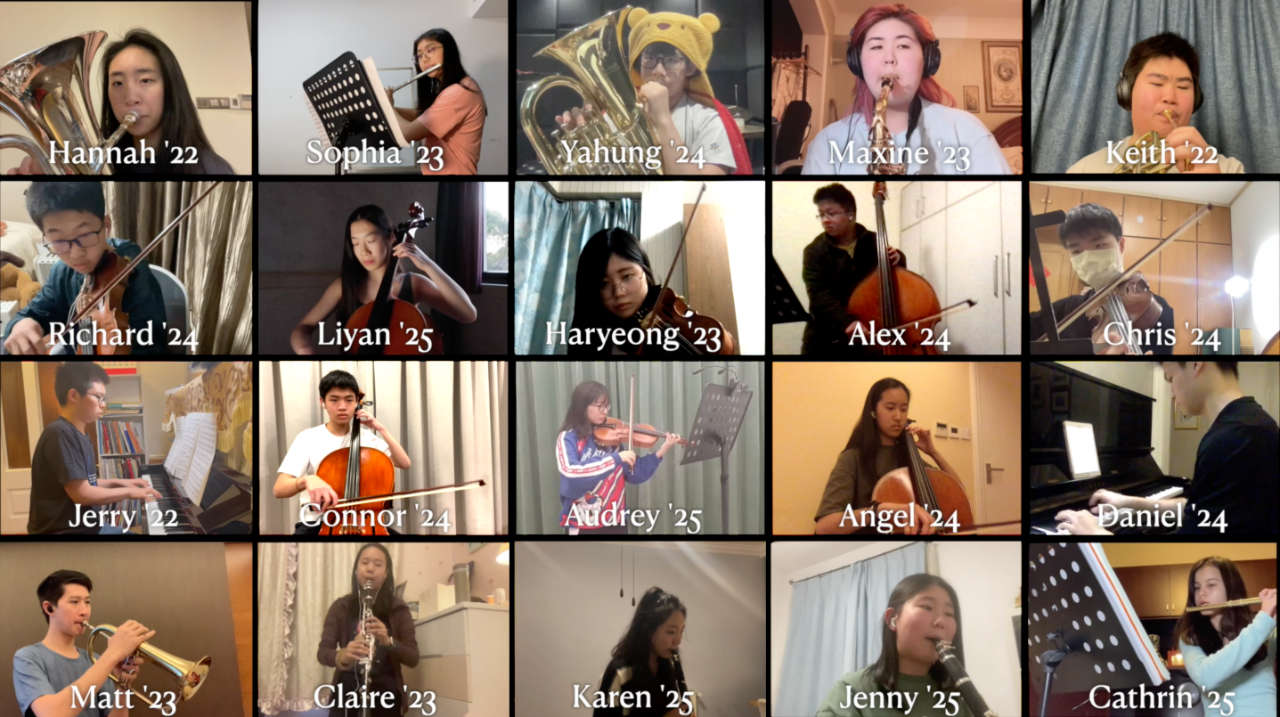 During this time of Distance Learning, it occurred to the members of YML (Youth Music Love), a high school music club from Shanghai American School's Puxi campus, that performing a piece they had been working on for their peers for weeks was going to be unlikely.
在远程学习期间,上海美国学校浦西校区的高中音乐俱乐部YML(Youth Music Love)的成员们意识到,他们很难将练习了数周的音乐表演节目展现在同学们面前了。
But as the saying goes, where there's a will there's a way, especially for a group of resourceful students with a passion for playing music! Cue a brainstorming session on an alternative way to present Libertango by Astor Piazzola… What about doing a virtual orchestra since we can't do it in person?
不过俗话说得好:"有志者,事竟成"。对于一群机智聪明且热爱音乐的学生来说尤其如此。大家集思广益,希望能用另一种方式演奏Astor Piazzola的《自由探戈》。既然不能现场演奏,那就组织一场线上管弦乐队表演吧!
With that goal in mind, president of the club Matt '23 asked the club to record themselves playing their instruments at home. Then he took it upon himself to learn video editing to fit 20 club members in one frame.
Matt sees the unique impact that music can have and hopes their performance will brighten other people's days, "Music is a method of healing, because there are certain aspects of music that can influence people emotionally and mentally. In a time where a lot of people are experiencing hardships, we hope our music could help people in the SAS community and beyond feel safer and happier."
心存这一目标,俱乐部部长十一年级学生Matt让成员们自己在家中录制乐器演奏的视频,而他自己则学起了视频剪辑,希望能将20名成员的表演视频放在同一个画面进行播放。
Matt觉得音乐有着独特的影响力,并希望他们的表演能够照亮他人的生活。"音乐是一种治愈方式,在某些方面它会对人的情感及精神产生影响。在这个许多人都在经历苦难的时刻,我们希望我们的音乐能够让SAS社区和其他人感到更安全、更快乐。"
Well done to all the members of YML for using their creativity and shared love of music in such a positive manner.
感谢YML全体成员积极踊跃地发挥自己的创造力,分享自己对音乐的热爱,你们都是最棒的。
HARMONY. EVERY DAY AT SAS.
和声,就在上海美国学校的每一天。